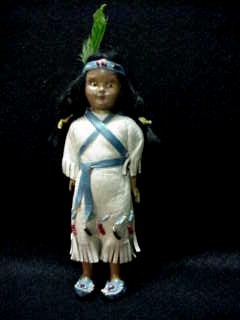 This 7 1/2" Indian doll is authentically detailed in every manner. She wears a white leather dress decorated with beads and blue leather ties. She is wearing blue leather moccasins and carries a papoose on her back. The doll is made of hard plastic and has sleep eyes. The garments are all of leather. She is in very good condition. Shipping and Insurance is $5.00 (international shipments may be more and all international payments, including Canada, must be paid in U.S. dollars with international money order. Unless buyer assumes risk, insurance will be required on international shipments, including Canada). We will send within three business days upon receipt of money order or cashiers check. We ship in 10 days with personal check. You may use your Visa or MasterCard through PayPal*and we will ship within three business days. (more about PayPal below)*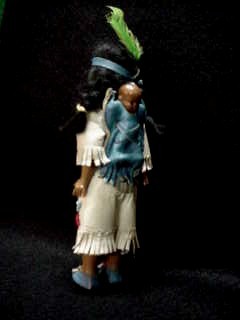 QUESTIONS? Email antiques@cottageandcastle.net Please include item number in all email correspondence.
WE LIST NEW ITEMS DAILY! Be sure and check our Catalog where you will be directed to item categories.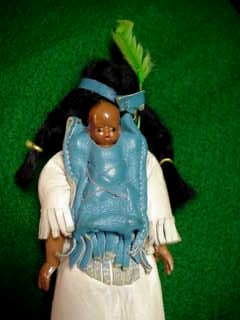 All items are described in a careful manner in order to provide our customers with the necessary information to make an informed purchase. It is our pledge that items sold here are guaranteed to be in the condition described. You can check out what our satisfied customers have to say about us on our REFERENCES page.
*To Learn More About
Thanks For Shopping At
COTTAGE and CASTLE ANTIQUES